The Accident You Never Saw Coming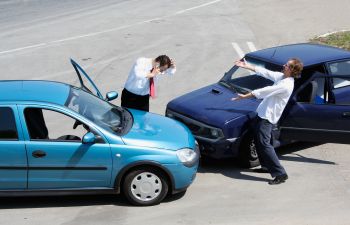 The light was green, and you had the right of way. All of a sudden, you found yourself facing the opposite direction. The airbag deflated, your door caved in. The ambulance came and took you to the hospital to be checked out for head, neck, shoulder and back injury.
It's taken you a couple days to figure out just what happened to your car and you still don't know what you're going to do.
Insurance Woes
But the worst thing of all, aside from your aching neck, is how unhelpful the insurance companies have been. Your insurance company is reluctant to do anything because the accident wasn't your fault. The other guy's insurance company doesn't want to do anything because they don't want to cut a check! They're only offering enough to replace your car with a junker, and not taking any of your injuries into account.
CFJ Injury Lawyers Will Fight for You
When you find yourself getting clobbered in the middle of an insurance war, you need the best legal representation available. Let CFJ Injury Lawyers of North Charleston go to battle for you.
Often, big insurance companies offer lower settlement offers to try to close their case quickly. But they don't have your best interests at heart. It's easier for them to low ball you and wait you out than it is for you to get along without transportation or appropriate medical treatment.
A North Charleston legal team with knowledge and experience handling accident claims can help you get the best settlement for your property and your health! Contact CFJ Injury Lawyers for help with your accident settlement today.
Posted on Behalf of CFJ Injury Lawyers