Is Your Employer at Fault for a Dangerous Work Environment?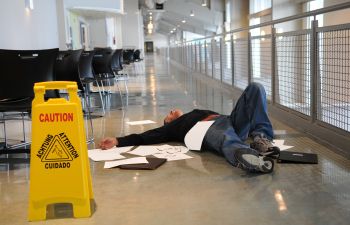 You finally fell at work. It was a spot you watch out for every day, always taking care to step over it when you're going back and forth.
But today — for whatever reason — you just forgot. You were distracted about the client about to come in and the next thing you know, you're in the middle of the floor and your head is aching.
To make matters worse, you hit your head so hard that you got a concussion. You even bruised a few ribs. You were so sore, that you had to get someone to drive you to the doctor's office. After the stitches, X-ray, and the pain meds, you wonder what the bill is going to come out to.
Is Your Boss at Fault?
You're probably wondering if your employer or the business owner is responsible for your medical charges. The place you tripped is no secret; other employees have stumbled over it before too.
Where do you go for help?
Workers' Compensation South Carolina
CFJ Injury Lawyers will meet with you confidently to discuss what your rights are and any claims you may have related to your injury on the job. Our firm focuses on workers' comp law and personal injuries, so we're familiar with fighting for the rights of people just like you. In fact, we have over 35 years of experience serving clients throughout North Charleston.
If you were injured on the job, missed work, or have expensive medical bills because of being hurt due to another person's negligence, you may have a case for reimbursement. Contact CFJ Injury Lawyers today to request a private meeting with one of our personal injury attorneys.
Posted on Behalf of CFJ Injury Lawyers