Your Airbags May Not Keep You Safe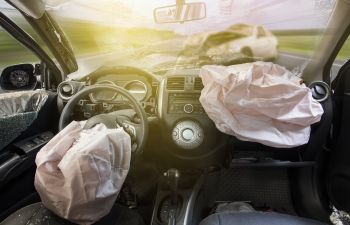 When airbags were originally introduced, they were intended as an additional safety feature for drivers like the ones here in North Charleston. In a front impact crash, you should be able to rely on the extra padding from what appears to be a soft cushion billowing from your steering wheel.  In reality, airbags, though less rigid than a steering wheel, are not actually soft. When they come exploding out of the steering wheel or from the doors, they can hurt! Read below about one of the most common problem with automobile airbags.
Bad Sensors
The regular deployment of an airbag can be painful: you can expect small lacerations to the face and chemical burns to the skin, or soft tissue of the airway from the gas and dust expelled from the bag. But if the sensors are calibrated incorrectly, you could experience major damage to your body:
Head Injury: The force of the airbag can cause broken bones in your face, including the cheek, chin, or nose. Of particular concern is the eye and orbital bone structure, which are more fragile. Additionally, you may sustain brain injury in the form of a concussion.
Neck and Back Injury: Far more serious than the typical "whiplash," an airbag can cause a fracture in the cervical spine, as well as to the bones and soft tissue of the neck.
Torso and Body: Airbags deploying incorrectly could even cause fractured arms, broken ribs, and heart injury or rupture!
If you've been in an accident where the airbag deployed poorly, don't get rid of the car or airbag before you talk to the team at CFJ Injury Lawyers. Contact our office in North Charleston to get help getting a settlement!
Posted on Behalf of CFJ Injury Lawyers